DIWhy and DIY
Follow
Father's Day is a tough one to shop for. The conversation with my dad usually goes like this.
"Dad, is there anything you want for [insert upcoming holiday/birthday here]."
"No, nothing. Save you're money."
"Well, is there anything you need."
"No."
Thanks dude, enlightening. I love showing up empty handed on holidays and birthdays and looking like a giant asshole...said no one ever. In my old age I have simply stopped asking what the man wants in an attempt to save myself at least one headache. The inevitable headache of trying to brainstorm a semi-useful gift for this impossible man is still unavoidable.
My father-in-law is no better. His conversation with my husband goes like this.
"Dad, what do you want for Father's Day?"
"Well, how much are you looking to spend. I've already bout X for $, Y for $$ and Z for $$$."
"I'll take them all."
"Ok, that will be $$$$$. You can pick them up at your earliest convenience."
He orders his own gifts on Amazon months in advance, wraps them, and passes them out to family members ahead of holidays and birthdays upon receipt of payment in full. Now considering my husband uses his father's Amazon account to buy my gifts and keep them secret (since I know his log in and use it regularly), I don't know why they haven't just started putting these charges directly on my husband's credit card.
I can safely write all of this because I know for a fact neither one of them reads this blog and all of the women in their life who do agree with me. If you could see me now I'm rolling my eye
s
on an infinite loop while picturing these two ridiculous men ...but to the rest of you...GOOD F'ING LUCK, because I'm assuming they are not the only weirdos around!
Maybe you have that dad that they talk about in greeting cards?
This guy...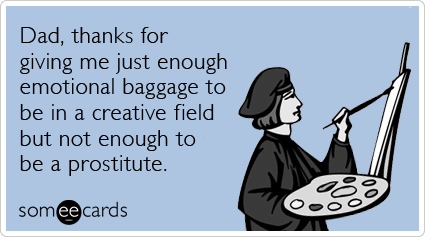 ...not this guy.
If that's the case...lets brainstorm some Father's Day gift ideas.
I've said it before and I'll say it again. A coherent theme is key to any great gift (not a hefty price tag). So stop and take a minute to think about what dad is passionate about lately and center your gift giving there.
Thanks to Father's Day, June is apparently a hot month for sales at Home Depot and Lowe's. (If dad is not a handy man but you are...now is the time to fill in your tool collection a little without the Mrs. noticing a huge hit on the credit card bill, just sayin'.) Power tools and various home improvement gadgets tend to see low prices in the month of June so go ahead and kind of splurge on that new power drill dad has had his eyes on.
Don't forget to
earn cashback
on these websites through
Ebates
or
Topcashback
for even deeper savings!
Check out local deals on
LivingSocial
,
Groupon
, and
Restaurant.com
for opportunities to try new restaurants in your area at low prices. Although vouchers through LivingSocial and Groupon tend to expire in 3-6 months, buying them through these websites will stretch your budget. Consider snagging a voucher to a local BYOB joint and grab a six pack of dad's favorite beer for him to bring along to dinner.
Don't forget to
earn cashback
on these websites through
Ebates
or
Topcashback
for even deeper savings!
Here's a great opportunity to consider some DIY.
Does dad have a beard? Try making a beard oil! Follow my
2-20-2 Rule
for working with Essential Oils to create a custom blend for dad to bring his beard from scratchy to soft in no time.
Suggested carrier oils
include coconut oil, jojoba oil, argan oil, sweet almond oil, etc.
Coconut oil is one of the best carrier oils for hair and beard applications, despite being solid at room temperature. It easily melts in the microwave to mix in essential oils and will melt in your hands for application.
If dad is a clean shaven, traditional razor man, try a subscription service like
Dollar Shave Club
(
TopCashBack
is offering 15% cashback) or
Harry's
(
Ebates
is offering 12.5% cashback to new customers) to make sure he always has a fresh blade. Consider supplementing this with a homemade bottle of
aftershave
using witch hazel and essential oils.
For the Grill Master:
Does dad use the grill as a point of refuge? Embrace his haven and make him a grill master gift bag. Include non-standard items like a
grill light
, to use at the start or end of the season as the night is creeping in earlier. Try some DIY and make a
custom spice rub
or salt. Finish off your gift with a
few steaks
to grill up for the perfect Father's Day dinner. For the beef lover, give this
Espresso Pepper Salt
recipe from The Kitchn a try. For the poultry man, try
Herby Lemon Salt
, an easy recipe that you can customize with some of dad's favorite herbs or whatever is fresh from the garden.
Check back later in the week for a DIY Father's Day Greeting card tutorial!